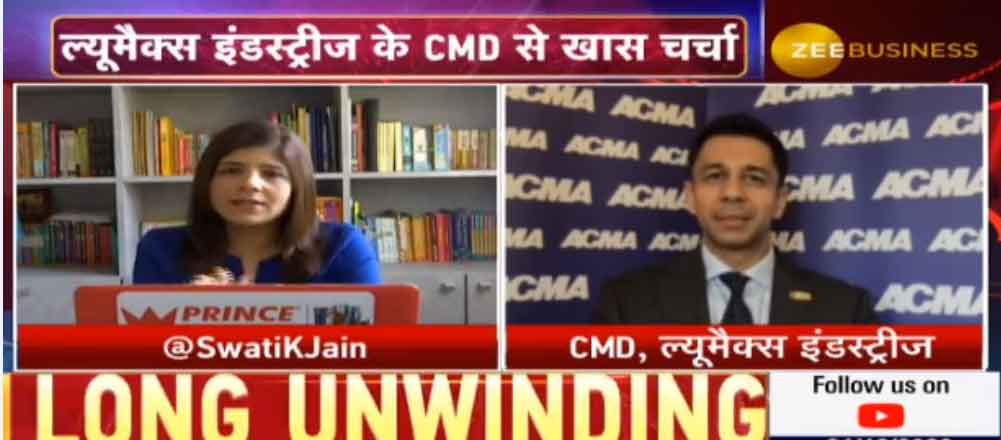 Deepak Jain, Chairman & Managing Director, Lumax Industries & President, ACMA, talks about the company's outlook for the New Year 2021, key growth drivers, order book, CapEx and M&A opportunities among others during a candid chat with Swati Khandelwal, Zee Business. Edited Excerpts:
Q: We have seen a good rebound in the last few months of the year. Do you think that it will continue in the New Year 2021 and what are going to be the growth drivers for the sector?
A: First of all, I would like to talk about the component industry, for the first six months of this year, then there has been degrowth of 34% if it is compared with the same period of 2019-20. But, when the festive season started then a lot of signs of advancement were seen in the industry and going forward, I have great hope that it will remain sustainable due to three-four reasons. As these markets are opening and India is unlocking, a lot of resilience is coming in both, the urban and rural, economies of India. We have seen an increase in the passenger car and two-wheelers segments. But COVID has not ended completely, yet. There are some headwinds as the raw material/ commodity prices have gone up largely. Also, there is a global shortage of semiconductors because when this lockdown was imposed then during the lockdown there was a demand for the consumer electronics, healthcare electronics and 5Gs and when auto resumes then its rebound was much better than the expectations. Going forward, it seems that there will be a global shortage of semiconductors. Thus, headwinds are there but from an economic perspective, it seems that production is sustainable.
Q: Lumax Industries is one of the biggest players in the lighting space. What kind of order book do you have at present and how bullish you are about the growth outlook and what kind of growth is visible in the top line and bottom line?
A: If I will talk about the Lumax Group then there is a Lumax Industries with which we have our lighting product and it is the market leaders in India, at present. The second is Lumax Auto Technologies, where we have around 10 products and 9 other collaborations. If I will talk about the entire group then obviously our group provides its products to two-wheelers, four-wheeler, commercial vehicle and also farm equipment sector. We provide our product line in every auto segments. In this, since the entire industry has degrowth, so there has been degrowth in Lumax Industries and Lumax Auto in the first half (H1) but going forward, we expect that we will be able to grow compared to the last H2. In 2020-21, it seems that the revenue recovery that we will make would be better what the industry will do because a tremendous technology shift is coming in lighting mainly in LED. New models are being launched and whenever there is a new model, minor or major, the lighting is changed in it. When it comes to our non-lighting products and I would like to talk about gear shift, where Lumax is a market leader, a technology change is coming here as well where transmissions are going from manual to automatic. And in it, our company Lumax Mannoh, which is Japanese joint venture, will localize AT Shifter and is the first company that will localize. Due to this, we see growth opportunities to gain market share. Other projects and products are recent joint ventures and its revenue bookings will happen in 2021-22. So, our Lumax Group is financially stable, even at the time of COVID, it was financially stable because its debt is very low and going forward, investment capacity is huge.
Q: What kind of CapEx has been lined up and do you have any plans related to capacity expansion? Also, tell us about the M&A opportunities that you are seeing?
A: If I will talk about lighting, we will probably have some CapEx in Gujarat area because we will need some capacity balancing for our main customers in the state and the order book that we have received. And if I will talk about the Lumax Auto Technologies, now, we will make investments in the recent joint ventures to stabilize the production. We have oxygen sensors and another product line there which are used to cater to both two-wheelers and four-wheelers. As far as merger and acquisition are concerned, then our group's core is collaborations in which they find new partners and it helps us in growing in the domestic market. But during the COVID, we feel that there could be some opportunities which are available and we are always open for the opportunities, we evaluate it and if the customer feels that it is a right opportunity for us and our strategic fit then will think about the acquisition and may go for it.