HCL Technologies Limited reported its second-quarter earnings for the financial year 2021-22 lower than street's expectations. The revenue growth for the reporting quarter was 2.9 per cent up quarter-on-quarter (qoq) as against the expectations of 4-5 per cent.
The tech major registered a growth of 1.6 per cent on-quarter and 3.9 per cent year-on-year (YoY) in the net income of Q2FY22 at Rs 3,265 crore. Revenue in rupee terms grew by 2.9 per cent QoQ and 11.1 per cent YoY to Rs 20,655 crore in Q2FY22. Street expected YoY revenue growth to 13 per cent.
See Zee Business Live TV Streaming Below:
In constant currency terms, the IT major reported 3.5 per cent QoQ growth and 10.5 per cent YoY. Similarly, it revenue growth in dollar terms stood at $ 2,791 million, 2.6 per cent QoQ and 11.3 per cent YoY, the company said in a results filing to exchanges on Thursday.
The company in guidance said, "Revenue expected to grow in double digits in constant currency for FY22, while EBIT margin expected to be between 19-21 per cent for FY22."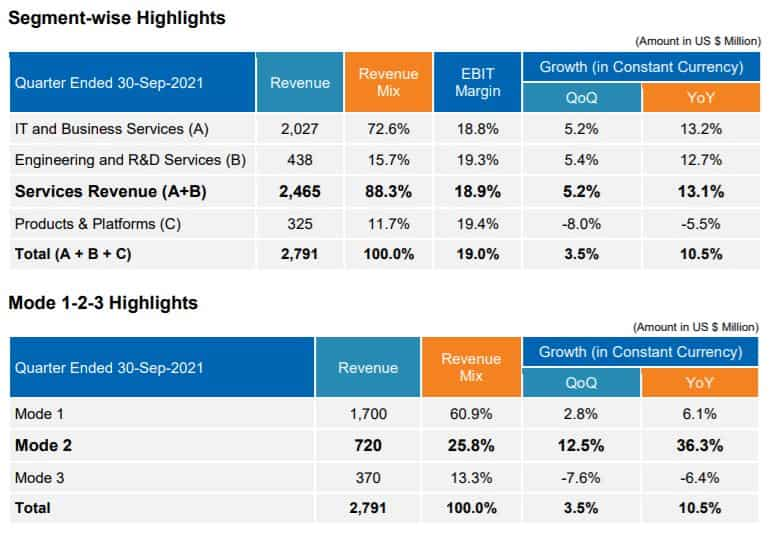 Q2 Highlights:
1. Strong Booking performance: Q2 TCV of New Deal wins at US$ 2,245 mn registering 38% YoY growth enabled by 14 net new Large deal wins.
2. Q2 revenue growth powered by services revenue at 5.2% QoQ and 13.1% YoY in constant currency.
3. All round growth across verticals and geographies YoY on a constant currency basis. I) Lifesciences & Healthcare (20.1% YoY cc); ii) Telecommunications, Media, Entertainment and Publishing (13.4% YoY cc), Manufacturing (11.9% YoY cc); iii) Technology & Services (10.8% YoY cc).
5. Strong client addition across all categories. On YoY basis, $100 mn+ clients up by 1, $50 mn+ clients up by 12, $20 mn+ clients up by 18, $10 mn+ clients up by 18, and $5 mn+ clients up by 12.
6. Hiring continued at a brisk pace with Net Addition of 11,135 during the quarter being the highest in the last 24 quarters. Total headcount now at 187,634.