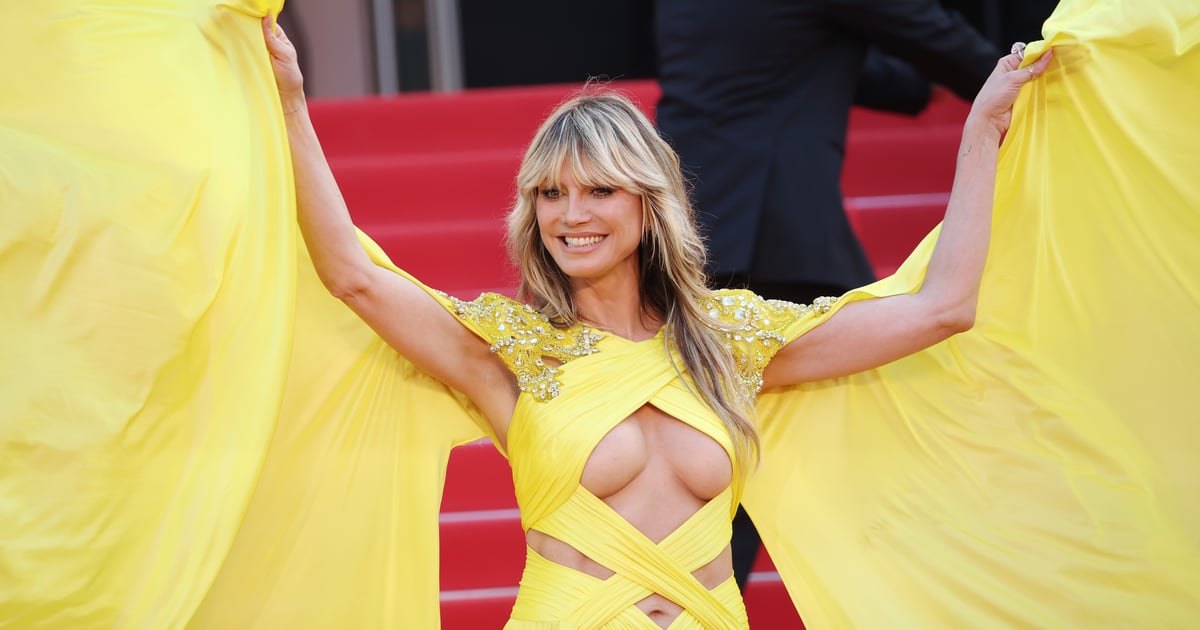 Heidi Klum brought the sunshine to the 2023 Cannes Film Festival. At the May 24 premiere of "The Pot-au-Feu," Klum shone bright in a yellow Zuhair Murad gown with strips of fabric creating cutouts along her sides, chest, and stomach. The dress also featured a soaring thigh-high leg slit and sparkly embellishments on her shoulders. Klum further emphasized the outfit's flowy nature by throwing her arms up in the air and sending her floor-length sleeves flying. With such an impressive wingspan, Klum was virtually impossible to miss on the red carpet.
Styled by Rob Zangardi and Mariel Haenn, Klum completed her look with translucent pointed-toe heels and minimal jewelry, keeping the focus on her dramatic dress. As a fashion star known for her successful modeling career and role as "Project Runway" host, Klum is all about taking risks and having fun. Back in January, she was the life of the party at the Golden Globes in a sequin minidress and feather boa. She also previously wore matching outfits with her daughter, Leni Klum, at Milan Fashion Week in 2022.
When it comes to Klum's style, it's best to expect the unexpected. And at Cannes especially, Klum was seemingly unbothered by the possibility of a wardrobe malfunction — which appeared almost inevitable from the precarious criss-cross of her top — as she continued to show off all the movement her vibrant gown was capable of with wild abandon. Ahead, see photos of Klum (and her outfit) taking the star-studded film festival by storm.