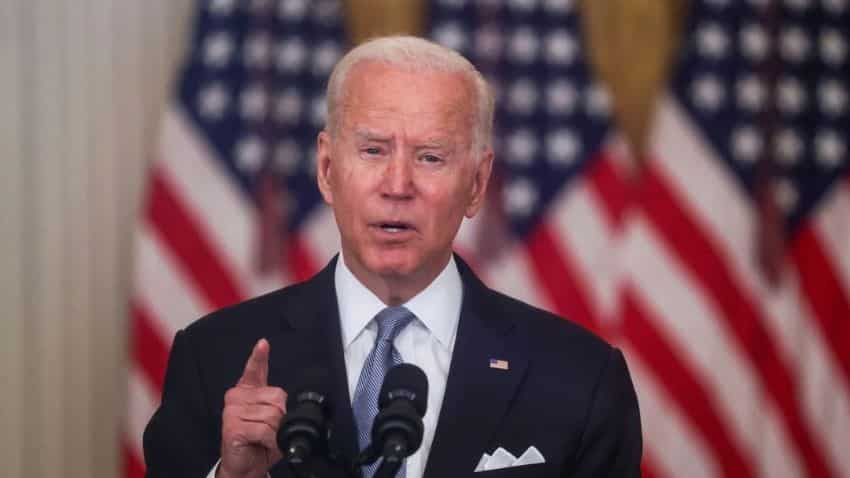 President Joe Biden on Monday sought to reassure jittery Americans that they can have confidence that the US banking system is "safe" and vowed stricter bank regulation after a string of bank failures raised concerns about the nation's financial stability.
The president's early morning comments came after US bank regulators spent the weekend working on a plan to shore up the public's confidence in the soundness of the financial system and limit spillover effects following the closing of the Silicon Valley Bank last week.
"Americans can rest assured that our banking system is safe. Your deposits are safe," Biden said from the Roosevelt Room of the White House.
Taxpayers will not bear any losses from the move, which will be funded by fees regulators charge to banks, he said. The banks' leaders will be fired, he added.
Biden in his address allayed fears, directly explaining what he has instructed his administration to do to protect small businesses and workers in the wake of regulator shutdowns of both Silicon Valley Bank and Signature Bank over the last few days.
The California-based Silicon Valley Bank (SVB), the 16th largest bank in the United States, was closed on Friday by the California Department of Financial Protection and Innovation which later appointed the Federal Deposit Insurance Corporation (FDIC) as its receiver.
It was the largest failure of a US bank since the financial crisis in 2008.
It came after SVB was scrambling to raise money to plug a loss from the sale of assets affected by higher interest rates. Word of the troubles led customers to race to withdraw funds leading to a cash crisis.
Authorities on Sunday also said they had taken over Signature Bank of New York, which was seen as the institution most vulnerable to a similar bank run after SVB.
Also Read: HSBC acquires UK subsidiary of Silicon Valley Bank for 1 pound
"Every American should feel confident that their deposits will be there if and when they need them," President Biden said. "Let me also assure you. We will not stop at this. We'll do whatever is needed."
Investors in the banks, however, will not be protected, the president said, and management will be fired.
"They knowingly took a risk, and when the risk didn't pay off, investors lost their money. That's how capitalism works," Biden said.
Customers will "have access to their money as of today. That includes small businesses across the country that bank there and need to make payroll, pay their bills and stay open for business," Biden said, adding that no losses will be suffered by the taxpayers.
"Instead, the money will come from the fees that banks pay into the deposit insurance fund," he explained.
The FDIC's Deposit Insurance Fund (DIF) is used to help pay for operating costs as well as to resolve failed banks. It's funded by quarterly fees collected from FDIC-insured banks as well as interest earned from its investments in Treasury securities.
As of December 31, 2022, the DIF's fund balance was USD 128.2 billion, according to the FDIC. Under requirements put in place by the Dodd-Frank Act, the FDIC has to have enough in the DIF coffers to cover 1.35 per cent of insured deposits, CNN reported.
The president also said there must be a 'full accounting' of how this situation happened and steps must be taken to ensure this "never happens again."
"In my administration, no one is above the law," Biden said, before calling on Congress to restore banking regulations rolled back during the Trump administration.
Biden administration officials announced Sunday that depositors with accounts at Silicon Valley Bank will have access to all of their money beginning Monday, and "no losses associated with the resolution of Silicon Valley Bank will be borne by the taxpayer."
The emergency action "fully protects" all depositors, Treasury Secretary Janet Yellen, Federal Reserve Board Chair Jerome Powell and Federal Deposit Insurance Corporation (FDIC) Chairman Martin Gruenberg said.
Biden on Sunday too assured the American people and businesses that a resolution of the collapse of the Silicon Valley Bank will not put taxpayer's money at risk.
Also Read: Silicon Valley Bank collapse: Regulators say customers can access their money from today
He said that at his direction the Treasury Secretary and National Economic Council Director worked diligently with the banking regulators to address problems at SVB and Signature Bank.
The Federal Reserve Board on Sunday announced it would make available additional funding to eligible depository institutions to help assure banks have the ability to meet the needs of all their depositors.
This step will ensure that the US banking system continues to perform its vital roles of protecting deposits and providing access to credit to households and businesses in a manner that promotes strong and sustainable economic growth, the statement further said.
Senator Mark Warner, a member of the Senate Banking Committee, said after an unprecedented and reckless run on Silicon Valley Bank, there were very real risks of instability spreading to other institutions and undermining our national security and technology innovation ecosystem.
California Governor Gavin Newsom said that the Biden Administration has acted swiftly and decisively to protect the American economy and strengthen public confidence in our banking system.
"Their actions this weekend have calmed nerves, and had profoundly positive impacts on California on our small businesses that can now make payroll, workers who will get their paychecks, on affordable housing projects that can continue construction, and on non-profits that can keep their doors open tomorrow," he said.
"California is a pillar of the American economy, and federal leaders did the right thing, ensuring our innovation economy can continue to grow and move forward," Newsom said.
Silicon Valley Bank was deeply entrenched in the tech startup scene and the default bank for many high-flying startups.
The bank failed after clients — many of them venture capital firms and VC-backed companies that the bank had cultivated over time — began pulling out their deposits, creating a run on the bank (among the biggest US bank runs in more than a decade).
Bank runs occur when customers or investors gripped by panic start withdrawing their money, causing the bank to be incapable of paying its obligations as they come due.
Silicon Valley Bank's abrupt collapse last week has left Silicon Valley entrepreneurs unnerved and jittery.
The Federal Deposit Insurance Corporation on Friday seized the assets of Silicon Valley Bank — the action reportedly in the middle of the business day highlighted the severity of the situation.
Catch latest stock market updates here. For all other news related to business, politics, tech, sports and auto, visit Zeebiz.com.