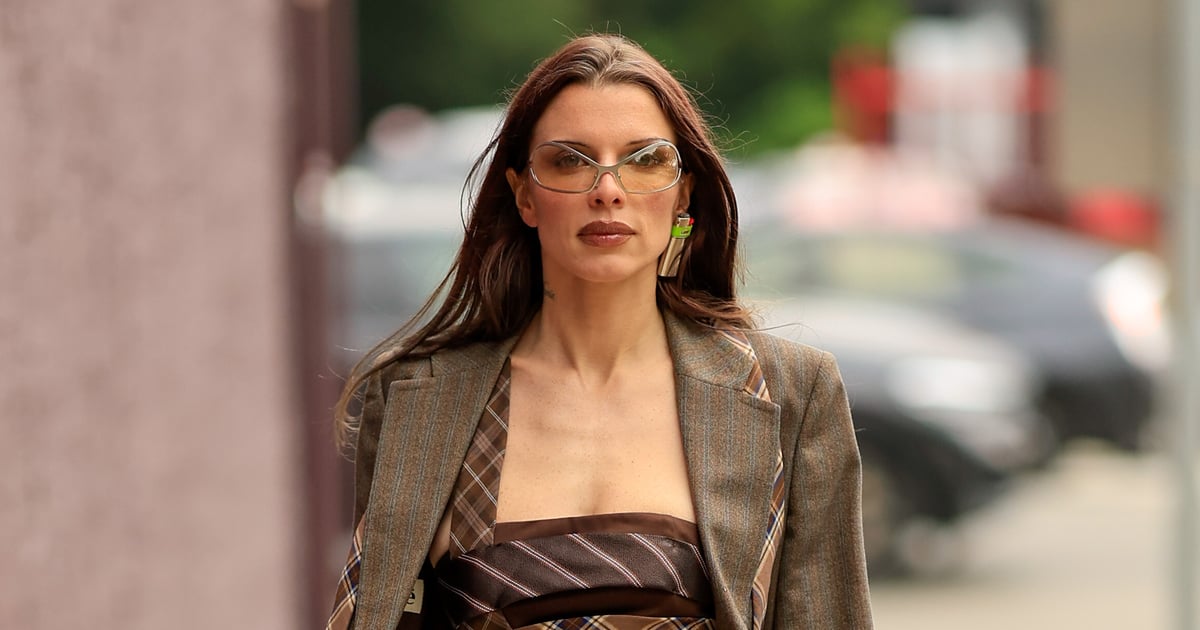 Julia Fox's take on business casual is anything but boring. On May 9, the model stepped out for a meeting at Universal Studios in Los Angeles wearing a corset entirely made of neckties. The top was wrapped in horizontally arranged ties in varying brown hues, with a single tie woven through vertically as a strap. Though the piece looks homemade like some of the DIY queen's buzziest outfits, it actually hails from streetwear label Jaded London — and is currently sold out online, if you can believe it.
The mother of one styled her unique top with a brown pinstripe blazer and leather micro miniskirt that slung low around her hips. In true Fox fashion, the rest of her outfit was loaded up with quirky details, including a silver Bic lighter fashioned as an earring and a ceramic handbag that likely would've shattered if dropped. She finished the look with futuristic yellow-lensed sunglasses and peep-toe snakeskin wedges with a cutout heel.
Fox is far from afraid of fashion risks, stepping out in everything from a poodle-inspired dress and staggering platform heels at New York Fashion Week to a barely-there latex minidress for a stroll through LA. And lest we forget that time she casually went grocery shopping in nothing but underwear and a denim blazer. The podcast host is also known to make her own clothes on occasion, previously transforming a beach towel into a cutout minidress and cutting up the waistband of her jeans to make a bra top.
Read ahead to admire Fox's latest daring style moment from all angles.