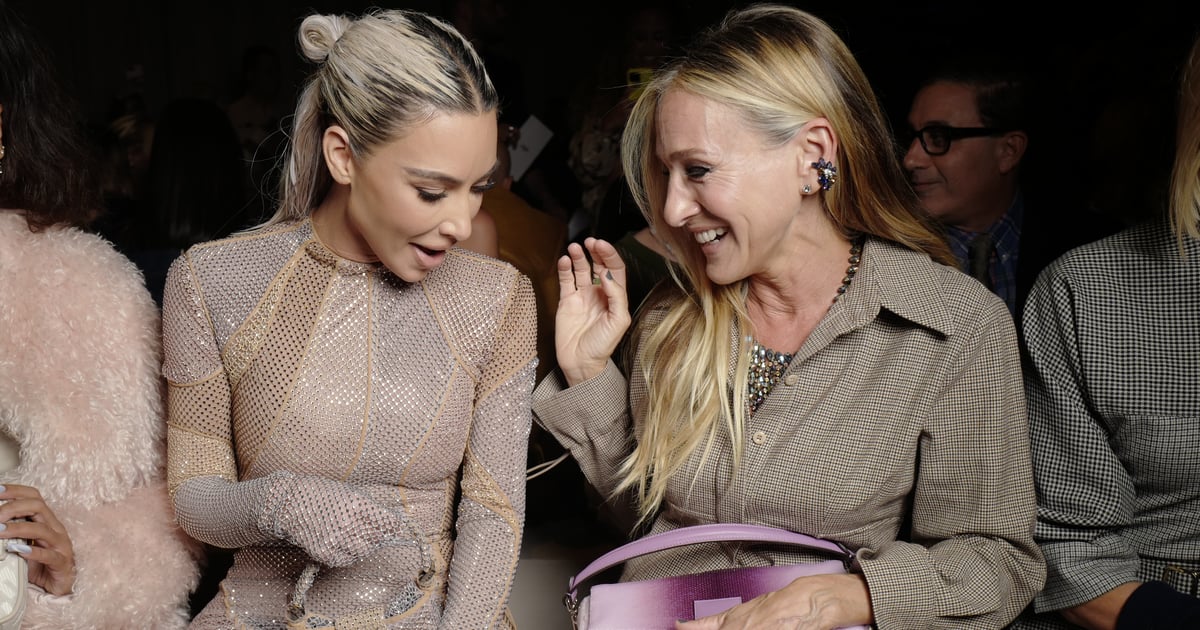 Kim Kardashian's sheer, sequined Fendi gown is one of the most memorable front-row outfits from New York Fashion Week. She styled it with a matching sequined Fendi Baguette bag and nude sandals at the brand's show, which marked the 25th anniversary of the iconic accessory. In a TikTok video that's since gone viral, Kardashian, 41, is seen applauding Kim Jones's creative direction while standing next to Sarah Jessica Parker as Anna Wintour approaches. While Kardashian appears to ready herself to greet the Vogue editor in chief, Wintour instead goes on to embrace Parker, a gesture which fans are interpreting as a snub. It's totally likely Wintour hugged Kardashian immediately after as they have a longstanding relationship; the reality star even recently covered Vogue Magazine's March 2022 issue. Either way, her mesh paneled dress certainly did not go unnoticed by the cameras.
Kardashian's standout look was one of many celebrity outfits making headlines at New York Fashion Week this season. Lil Nas X had quite the start to Fashion Month, from walking in his first runway show at Coach to nabbing a chair next to Wintour and Jared Leto at Vogue World. At the latter, the 23-year-old rapper styled a mesh crop top with baggy drop-waist leather pants in a silver metallic finish. Completed simply with sneakers, and a matching moto jacket that he wore only when sitting down, Lil Nas X went on to deliver a buzzy performance at the event, which honored the publication's 130th anniversary.
Meanwhile, Julia Fox turned heads at Harper's Bazaar x Bloomingdale's Icons party, where she arrived hand-in-hand with her stylist Briana Andalore clad in a saran-wrap minidress by Joanna Prazmo. The design featured a liquid-effect shine, metal hardware, and a distressed, asymmetrical hemline. And naturally, Fox accessorized with a matching saran-wrap clutch and platform boots.
Other notable New York Fashion Week guests like La La Anthony and Sydney Sweeney made bold sartorial statements, setting the tone for the countless parties and front-row appearances to come in London, Milan, and Paris.
Ahead, see the celebrities who made their presence known at New York Fashion Week in eye-catching looks.