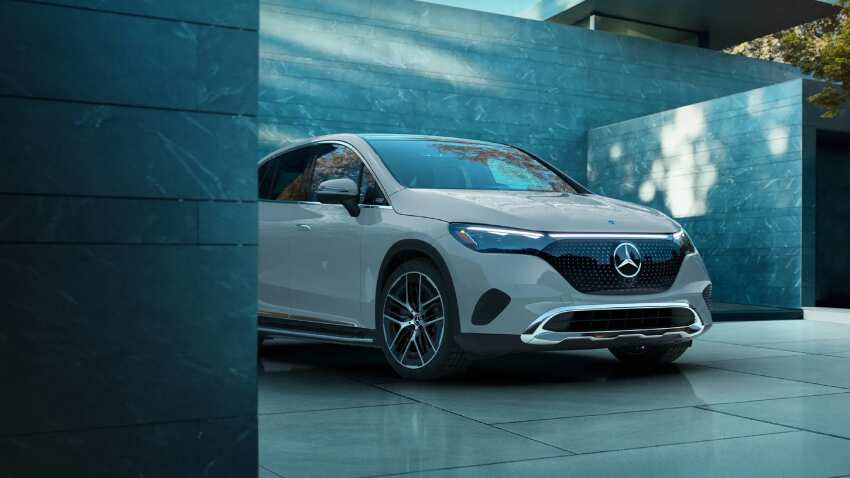 Mercedes-Benz India is all set to launch the much-anticipated EQE SUV on Friday, September 15, expanding its electric vehicle lineup in the country. This marks the fourth electric offering from the Indian arm of the German manufacturer of luxury cars.
The new electric SUV is set to compete against the BMW iX, the Jaguar i-Pace, and the recently launched Audi Q8 e-tron.
The electric SUV will join the EQS and EQB electric vehicles currently offered in the German automaker's India portfolio.
TRENDING NOW
The all-new EQE SUV is based on the brand's electric vehicle architecture (EVA) platform, and has a sedan sibling globally, the EQE (sedan). The EQE SUV will likely be followed by the EQS SUV.
Among some of its key features, the EQE SUV sports the brand's famous MBUX hyper-screen along with a 12.3-inch touch-screen panel for the front passenger.
This electric SUV offers powertrain and battery options designed to cater to a global audience.
The base model, the EQE 350+, is equipped with a single motor that powers the rear wheels, delivering an impressive 288 bhp of power and 565 Nm torque.
It also offers a range of 590 km according to the WLTP cycle, ensuring drivers can embark on extended journeys with confidence.
The EQE 350 4MATIC features a dual-motor setup with the same 288 bhp output but a significantly higher torque rating of 765 Nm.
Its range remains impressive at 538 km on a single charge, offering a blend of power and efficiency.
At the top of the lineup sits the EQE 500 4MATIC, the pinnacle of electric SUV performance from Mercedes-Benz.
With 402 bhp of peak power and an impressive 858 Nm of torque on tap, this variant provides thrilling driving experiences.
The EQE 500 4MATIC maintains a remarkable range of 521 km, as per the WLTP standards.
All of these models are equipped with a 90.6 kWh lithium-ion battery pack, ensuring ample power reserves for extended journeys.
The 4MATIC variants also feature all-wheel drive (AWD) for added traction and control.
The EQE SUV features DC fast charging capabilities, with support for speeds of up to 170 kW allowing for quick and convenient charging stops.
Built on the brand's cutting-edge electric vehicle architecture (EVA) platform, this SUV also has a global sedan counterpart, the EQE sedan.
The launch of the EQE SUV marks the beginning of Mercedes-Benz's electric vehicle journey in India, with the EQS SUV expected to follow in its footsteps.