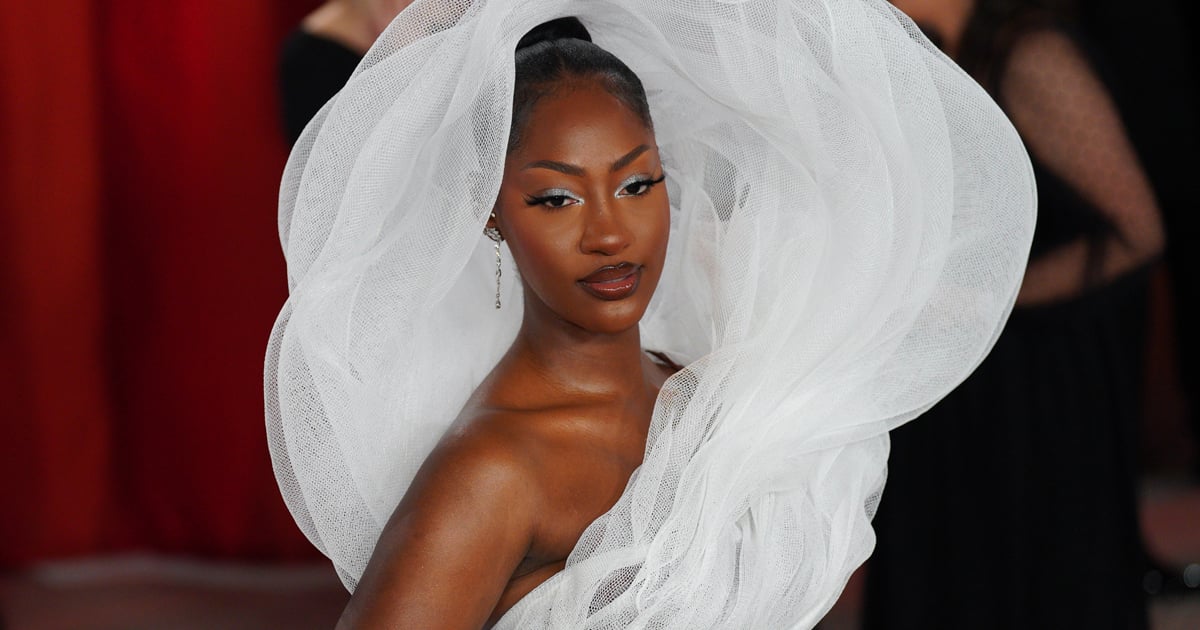 Tems was a work of art that deserved to be seen at the 2023 Oscars. This year's award season has been the backdrop for a series of avant-garde fashion moments that challenge the monotony of traditional red carpet events. On March 12, Tems sparked controversy when she wore a whimsical sculpture dress by Lever Couture to the Academy Awards. While undeniably beautiful, the "No Woman, No Cry" singer's gown obstructed the view of her fellow audience members, initiating a debate about whether the magnitude of her outfit was fair to those around her.
"She is taking up space as a Black woman."
The dress in question was a piece from the designer's Leleka collection, which first made its debut during Tokyo Fashion Week in 2022. The sculptural silhouette, styled by Dunsin Wright, featured billowing wisps of fabric that curved in a smoke-like design from Tems's left shoulder to her right leg. The floor-length train and structured hood resembled a cloud curling in the wind. She styled the outfit with rhinestone-embellished heeled sandals by Amina Muaddi, multiple diamond earrings, and matching jewelery on her wrists and hands.
For many, the nebulous design was one of the most gorgeous fashion moments of the evening. For others, including those seated behind Tems at the award show, the hooded cape was an obstruction that made it difficult to see the presentations. One woman even went viral on Twitter after she poked her head around the dress to get a better glimpse at the stage.
After photos of Tems's ensemble circulated on social media, viewers were quick to take sides about whether or not the massive gown was appropriate to wear to the biggest film night of the year. "That woman trying to peek her head around Tems' dress is sending me to the moon," one user wrote on Twitter. Another user added, "Tems is killing me sitting in that dress."
While some argued that it was unfair of Tems to block other celebrities' views at the award show, others pointed out that the singer's voluminous look deserved to be seen. "The headpiece of Tems' dress blockin everyone seated directly behind her is giving Black woman on a Sunday and I am SO here for IT," Dr. Nicki Washington tweeted during the award show. "Sis said y'all will be aight."
In a separate tweet, British author Bolu Babalola pointed out that Tems's outfit could be symbolic of something greater. She said, "Actually it is an ironic symbol, she is taking up space as a Black woman, whilst the white not only represents a femininity BW have traditionally not had access to but also how whiteness has obscured and obstructed paths of progress, in this essay . . . "
Tems has not commented on the backlash following her appearance at the Oscars, but it's safe to say many viewers agree she was taking up space she rightfully deserves.
See Tems's stunning Oscars dress ahead.